Dried Gomphrena Flower - 30g
Limited-Time Offers, End in:
Tax included.
Shipping
calculated at checkout.
Product details
Essential
● Origin:  Anhui,  China
● Net Weight: 30g / 1 oz.
● Expired Date: 12 Months
What is dried
 

globe amaranth flower

?

Globe amaranth flower is also known as Gomphrena flower,globe-amaranth and is a genus of plants in the sunflower family. It has been found in Europe and tropical Africa and Asia.

The dried globe amaranth flower is mainly supplied from China, which has abundant rain and rich sunlight. The flowers are widely used for flower arrangements or other ornamental purposes in order to increase the value of the crop field.
What are the health benefits of dried globe amaranth flowers?
Globe amaranth flower is rich in nutrition, and the most beneficial part of dried globe amaranth flower are choline, vitamin E, and calcium.
Chlorophyll which is contained in dried globe amaranth flowers can promote blood clotting, reduce cholesterol, remove free radicals and chelate heavy metals.
Vitamin C contained in dried globe amaranth flowers can improve immune function, promote tissue regeneration and maintain healthy skin.
What should we do if we want to buy this product?
If you want to get a wholesale sample or place an order for a large supply, please send your inquiry to LEOTEAWORD@GMAIL.COM. Our sales representative will contact you within 24 hours.
How to make globe amaranth flower tea?
To make tea, put 5g of dried globe amaranth flower on the tea strainer and any boiling water. After 30 minutes, you can get the drink by sieving the waste. The drink is better for your liver due to its choline contained in dried globe amaranth flowers.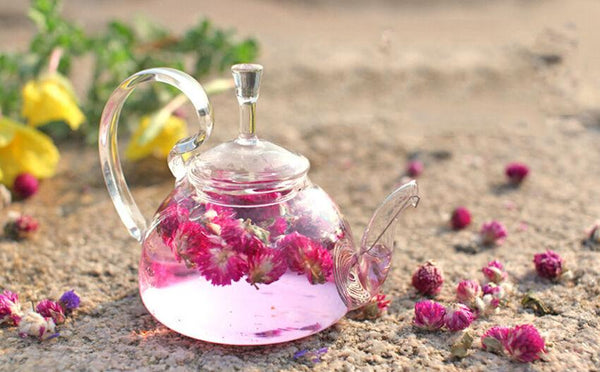 How long time the product will be valid?
All our products will be expired within 24 months, so you can buy them at any time as you want. As for packing, we supply different kinds of packing sizes according to the customer's request. If you need bags or tins, please contact us directly. Thanks!
Is there any caffeine content in globe amaranth flower?
There is no caffeine in dried globe amaranth flower.
How to store this product?
Generally, we recommend that you must keep it in a cool and dry place with low temperature. In addition, you should pay attention to sealing the package well after taking out all of our products. It can be stored for 24 months from the production date.
Are there any side effects of globe amaranth flower?
There are no side effects in dried globe amaranth flower tea drink, and it will be helpful to your health.
The Tea Bridge
Chinese Tea Culture
Tea plays an important role in China. It is commonly consumed at social events, and many cultures have created intricate formal ceremonies for these events. Afternoon tea is a British custom with widespread appeal. Tea ceremonies, with their roots in the Chinese tea culture, differ among East Asian countries, such as the Japanese or Korean versions. Tea may differ widely in preparation, such as in Tibet, where the beverage is commonly brewed with salt and butter. Tea may be drunk in small private gatherings (tea parties) or in public (tea houses designed for social interaction).